Some time later.
Partile metalice nu au avut nevoie de polisare, doar le-am spalat cu apa calda si detergent de vase Fairy, apoi le-am uscat cu compresorul. Rezultatele finale mi-au intrecut asteptarile.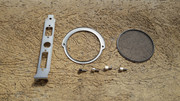 Inca de cand am cumparat placa, am observat ca heatsink-ul este fixat foarte bine cu un
thermal pad roz pe baza de silicon
. In trecut, cand m-am confruntat cu asa ceva, am incalzit heatsink-ul si am reusit ca prin rotire sa-l detasez fara probleme. Resturile de thermal pad le-am curatat cu mare atentie folosind acetona si IPA 99%. In acest caz insa am decis sa nu ma leg la cap daca nu ma doare, mai ales ca pe parcursul testelor temperatura chip-ului grafic nu a trecut de de 53 grade C.
Murdaria aderenta de pe spatele placii nu a fost impresionata de
IPA 99%
asa ca am spalat placa cu
apa calda si detergent de vase Fairy
, apoi am uscat-o cu compresorul.
Au urmat apoi mai multe spalari cu
IPA 99%
pana cand am obtinut rezultatele dorite.
Chiar daca heatsink-ul a ramas fixat pe placa, asta nu inseamna ca nu am acordat atentie la detaliu. Cateva aripioare de la heatsink erau putin indoite si au fost repuse pe pozitie.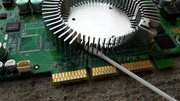 Rezultate.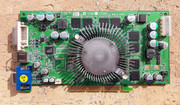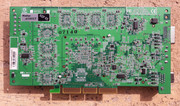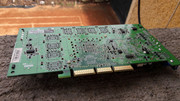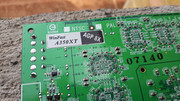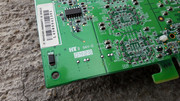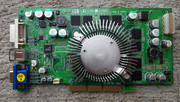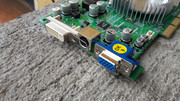 Pe parcursul testelor un fapt a devenit mai mult decat evident.
Rulmentul
de la ventilator was way past its prime. The rumble was present albeit it wasn't too loud.
That meant one thing.
Tear
it up and pack it up with fresh grease. Chiar daca am reusit sa scot protectia de la rulment cu urme minime de damage, cand a trebuit sa o pun la loc, pentru ca nu am putut sa scot rulmentul din suportul de plastic, ea s-a deformat putin la reintroducere. Am lasat-o asa insa am avut grija ca aceasta sa nu frece de bile. A trebuit sa incerc doua tipuri de vaselina pana cand am facut ca rulmentul sa functioneze silent. Dupa ce am pus vaselina proaspata am montat elicea si am lasat ventilatorul sa functioneze cateva minute iar apoi l-am desfacut si am inlaturat excesul de vaselina.
Cand am invartit la mana ventilatorul, inca am mai putut simti "uzura" rulmentului, insa cu vaselina proaspata i-am prelungit viata.
Why all this effort?
There is no replacement for the original. As fi putut monta alt cooler insa placa si-ar fi pierdut din identitate.
Faptul ca placa este acum nu doar curata ci si silentioasa, este pentru mine un mare plus.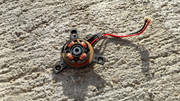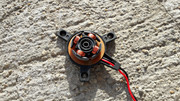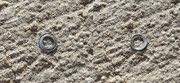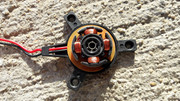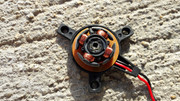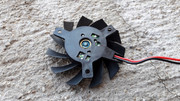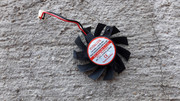 Perfect!